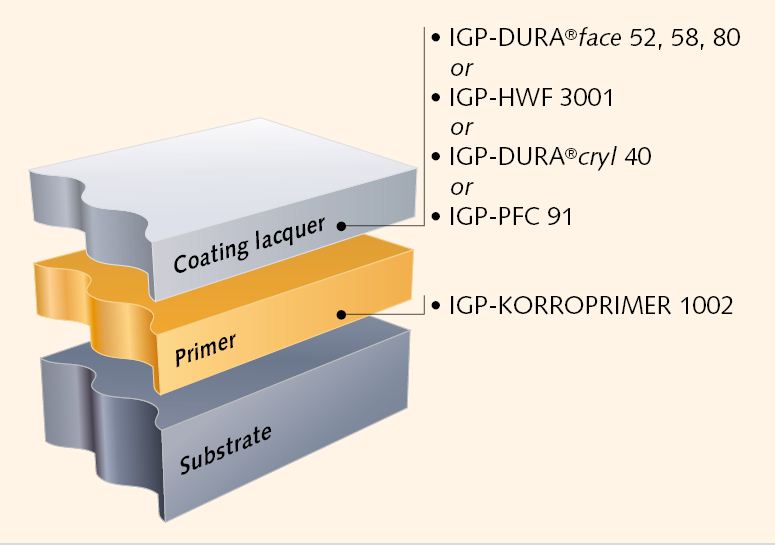 Product description

IGP-Korroprimer 1002 is an anti-corrosion coating powder based on epoxy resin, designed for iron and steel substrates. The product can also be used for priming chromatised aluminium to protect from filliform corrosion. This provides an additional and special protective effect for use in the vicinity of the sea and in aggressive industrial climates.

Technical specifications

Colour shades: Two shades are available: light grey, RAL 7035 and battleship grey, RAL 7043. The surface is matt and smooth-running.
How corrosion develops

DIN defines corrosion as "the destruction of metals by chemical or electrochemical reactions with their environment".
This "environment" can be the atmosphere,salt water or river water. The best-known example for corrosion is rusting iron. This is a complicated chemical reaction where iron interacts with oxygen and water to form iron hydroxide hydrate. This oxide is a solid which grows on the metal as a voluminous and porous coating as the reaction corrosion progresses and which impairs properties such as load-bearing capacity.

Protection from corrosion

It is estimated that corrosion causes an annual damage going in the billions (approx. 3.5% of the gross national product). To avoid these effects and to protect steel and steel constructions, organic coating systems are applied. For these requirements, IGP offers an extraordinary and highly effective two-layer powder varnish coating system, consisting of a corrosion-retarding and adhesion-enhancing epoxy primer coat, the IGP-KORRO PRIMER 1002, and a weather-proof and UV-resistant powder coating such as:

• IGP-DURA®face 52, 58, 80
• IGP-HWF 3001, highly weather-resistant
• IGP-DURA®cryl 40
• IGP-PFC 91 with "30-year weathering protection"